Digital Marketing Trends You Shouldn't Miss in 2020
Posted On 06 Jan, 2020 by Vishal V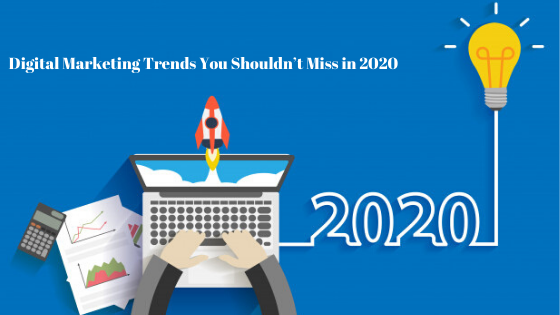 As we enter 2020, entrepreneurs and business owners should prepare for upcoming digital marketing trends. The landscape of marketing is continuously changing, and if you don't upgrade, you'll miss out on ways to bring your company to new heights.
Forward-thinking approaches will drive visitors to your web site, grow your electronic mailing list, generate sales and bring clients back over and over again. Imagine if entrepreneurs used the very same approaches they used decades ago. They wouldn't be able to appeal to their target audiences, and their businesses surely wouldn't thrive off processes that are old.
Keeping up with the trends is extremely important if you are going to advance your company and promote to consumers the way they desire. Here are three online Digital marketing trends businesses will need to pay attention to in 2020.
Improved Client Security
Client security has always been important, but as technology advances, it's becoming more of a determining factor for customer purchases. If consumers feel that their information isn't secure passing through your website, they won't bother to purchase and are unlikely to revisit. It's crucial your website and your brand takes cyber security seriously and keeps customer safe.
In 2020, the demand for security is only going to reevaluate as concerns move into the spotlight and data breaches happen. The General Data Protection Regulation (GDPR) along with the California's Consumer Privacy Act (CCPA) emphasizes keeping customer data protected. Marketers must concentrate on how they use cookies when marketing their products and services.
Conversational Marketing
These days, consumers are busy and don't stop. Advanced technology created an environment where individuals anticipate rapid solutions and speedy turnaround. The demand for speed only becomes more crucial as time goes on, that's the reason conversational marketing will be an efficient approach for the new year 2020.
Conversational marketing uses comments and customer data to drive conversions, improve engagement, build more and customer loyalty. It is very easy to improve your business operations when you've information from the source. This technique starts a conversation with your audience so you may revamp regions of your brand that need improvement.
Service, chatbots, customer loyalty applications and e-mail marketing all use conversational marketing. It works incredibly well for customer service as it uses casual language and AI-powered technology to help consumers solve their problems.
Interactive Content Marketing
Nowadays Marketers are always looking to add an extra zing to their content that can appeal to their target audience in a better way. A well educated consumer will always respond more to inbound marketing method than outbound, which is why using content to generate sales is worth in 2020.
As time goes on, consumers respond more to inbound marketing practices than outbound, which explains why using content to generate sales makes sense in 2020. Unlike static content, interactive content keeps the visitor engaged and active which helps to get desired results.
Some examples include:
Contests
Polls and surveys
Meme's
Videos
Infographics
For example, instead of creating a blog post about common grammar mistakes, you could create a quiz that tests your audience on their grammar skills and assigns them a score at the end.
As the year comes to a close, marketers and businesses must look at the upcoming trends to better market to their audiences and generate sales.
We at ValueDigital keep ourselves updated on the latest industry trends and this shows in our work.
Wana plan Digital Marketing Strategy for 2020? Call 8879112929 or mail your requirements on info@valuedigital.co.in